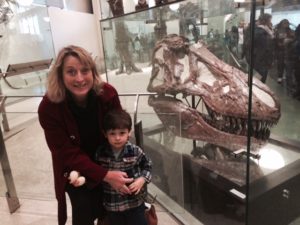 Deborah McKinzie
Head of School
I was born in Wichita, Kansas. When I was five, my father took a job with Kodak and we moved to Rochester. I earned a BS in Biology at Keuka College. In my early 20s I moved to Califonoria. After and early career in laboratory medicine and heath care management, I began my Montessori journey.
I founded Children's Garden Montessori School in El Centro, CA where I served as the School Director, Children's House and Elementary Directress. After spending 1o years "following the child," I returned to Rochester with my five Montessori children. In the late 90s, I helped to establish the elementary program at Trinity Montessori School.
However, the financial realities of raising five children required that I change careers. I took my first job in fundraising at RIT and over the next 15 years served as a major gift fundraiser and administrator for RIT, University at Buffalo, University of Rochester and Elmira College.
How many of us get to return to the work they loved most? I have! How fortunate I am to join the exceptional staff of MSR. Together we will grow the school, enrich the programs and enhance our community.
Sarah Espe
Assistant to Head of School
I am originally from Highland, NY and have lived in Rochester since 2012. I attended the College at Brockport, where I received my Bachelors of Science degree in Health Care Administration. After graduating, I became a Lead Preschool teacher at a childcare center in Brockport for two years. I then started at a center in Rochester as Lead Toddler teacher. I found a passion for working with kids and MSR gave me the opportunity to pursue my dream in working in administration and being a part of a wonderful community. This will be my third year at MSR and it is a beautiful experience to see this school to continue to grow.
Outside of work, I enjoy spending time with my friends. Some of my interests include hiking, cooking, and going to the beach.
Angela Caprarotta
Director of Admissions and Finance
I grew up in a small town in Pennsylvania near the Allegheny National Forest, where I spent many days hiking and exploring up and down the creek and in the forests near my parent's house. Inspired by these experiences, I attended Penn State University with studies focused on ecology and sustainability. After graduating from PSU with a B.S. in Biology, I did some traveling across the U.S.A – once by car, and once by bicycle!
Twelve years ago, I moved to Rochester and started my journey at MSR as an Assistant in Deanna's classroom. I received my AMI Elementary Certification from the Montessori Institute of Milwaukee in 2008. I then went on to pursue a Masters in Education from Loyola College of Maryland. I opened and led the elementary classroom from 2008 – 2013 and served as Head Directress for two years. As the Director of Admissions & Finance for the last few years, I have been committed to increasing our enrollment. I am so thrilled our programs have grown and we can once again offer an Elementary experience for our children.
Outside of MSR, I spend my time being entertained by my four-year old and new baby. I enjoy cooking, knitting and boating on Lake Ontario.
Holly Marshall
Classroom and Parent Coordinator
I'm a wife and mother of 2 young children, both of whom attend MSR. In 2004, I graduated from Penn State University with degrees in Philosophy & Political Science. After college, I moved to Rochester to be with my husband & to attend Simon Business School at the University of Rochester. Post grad-school, I worked in the internet marketing and media buying industry for a few years before choosing to stay home with my family.
On a more personal note, I'm a tea drinker, pumpkin lover, aspiring homesteader, baker, home cook & traveler.
I love my kitchen experiments including (but not limited to!) home brewing kombucha, kraut fermentation, bread baking, food preservation, & coming up with meals on the fly!
If you want to talk tea, I'm your girl 🙂 Tea making can be an enjoyable process & has several "rules" involved in making the perfect cup. I continue to educate myself on new and old tea making techniques & tea varieties.
As for travel, my love of traveling started at a young age when I'd take long visits to St. John, USVI to visit family. From that point on, the travel bug stuck. It helps that my husband, Dave loves exploring the world as much as I do.
I'm so happy to be a part of the MSR community & look forward to the years ahead.
Patti Curtin
Human Resources and Compliance
Bio Coming Soon!